This scholarship recognises outstanding female students from countries with low national achievements or disadvantaged backgrounds. Male students that have shown a proven commitment to achieving the HeForShe movement's goals are also eligible to apply.
Paragraphs
In 2015, HKU became the first university in the world to launch the United Nations' HeForShe initiative on campus – the global solidarity movement that campaigns for gender equality. Addressing barriers to social mobility in less developed countries, the HeForShe IMPACT Champion Scholarship gives talented students who've risen above gender inequality access to a world-class education at HKU.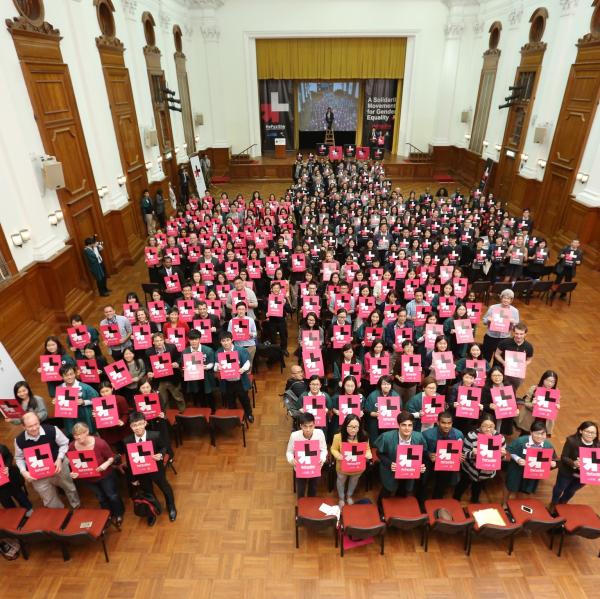 Eligibility
Applications are open to male and female students with outstanding academic results who have demonstrated a commitment to achieving the HeForShe movement's objectives. Preference is given to candidates from disadvantaged backgrounds or countries with low national achievements in health, education, income, and gender development and equality. National qualifications are also considered.
Scholarship Package
The scholarships will have a value equivalent to a renewable FULL tuition fee waiver per year plus a travel allowance.
Application
To apply for this scholarship, students will be required to submit an essay with no more than 500 words and tell us about their role as an 'Impact Champion' in their community. Students should tell us why they want to study their chosen programme at HKU, their interests, extracurricular activities, voluntary work, and career aspirations. Students should also share with us how they have overcome challenges based on barriers to education that they have experienced in the past, and what this scholarship would mean to them. This essay should be uploaded to their online application account under the 'HeForShe - Supplementary Essay' section upon submission of the application to the University.
Interested students are strongly advised to submit an application via the HKU online application system, indicate their interest in this scholarship on their application form, and submit all supporting documents.
Application Deadline: 20 January, 2024
Students may continue to indicate their interest in this scholarship after application deadline, where consideration for this scholarship will only take place subject to scholarship availability.
Application Fee Waiver
Applicants experiencing financial difficulties may apply for an application fee waiver. Please advise your counsellor to write to us via counsellors@hku.hk and we will be in touch with him/her directly on the next step for the application once available. Evaluation will be conducted on a case-by-case basis.
*Terms and conditions apply.